Tostadas, Tacos, and Burritos
Tostadas, Tacos and Burritos are the easiest Mexican dishes for the home cook. Below are the most common ingredients, but each person can use whatever they have at hand, or whatever suits their palate. One of the common tacos you will find in Mexico, especially near the coast, is a fish taco made with a firm white fish and thinly sliced fresh cabbage.
- corn tortillas (for tostadas or tacos) or flour tortillas (for burritos)
- oil for frying (about 2" deep in medium saucepan for tostadas)
- chopped meat (leftover chicken, shredded or ground beef)
- refried beans
- grated cheddar cheese
- thinly sliced lettuce (iceberg)
- chopped tomatoes
- sliced olives
- salsa
- sour cream (creme fraiche)
Tostadas
For tostadas, heat oil over medium-high heat.
Fry each corn tortilla separately, turning once, until crisp and lightly browned.
Place on a plate with paper towels to absorb the excess oil.
Set in warm oven while preparing remaining tortillas.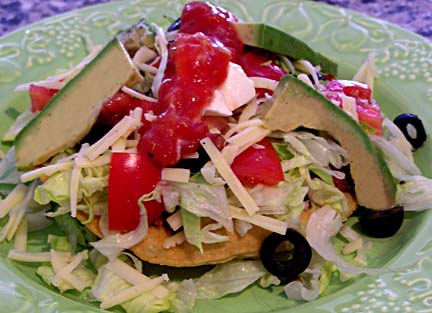 To make the tostada, first place a small bit of the sliced lettuce on a plate, then top with crisp tortilla (this helps when cutting the tostada into bite-size pieces).
Then layer, as desired:
- refried beans
- meat
- lettuce
- tomatoes
- cheese
- olives
- sour cream
- salsa
Serve immediately. Ideal for a buffet where each person can make their own, just as they like it!
Tacos
Tacos use the same basic ingredients, but use a corn tortilla that is folded or rolled. The tortillas can either be:
lightly fried (use only about ¼" [1 cm] of oil in a small fry pan) so they are still soft (about 5 seconds on each side), then drain well on paper towels;
steamed (warm 4 in microwave for 30 seconds to 1 minute, wrapped in a damp paper towel, enclosed in a plastic bag). These are best heated at the last minute, right before serving;
fried crisp (fry partially, then fold over into a "U" shape and fry until crisp) and drained well on paper towels. These are the easiest if you want to make them ahead of time.
Fill the taco with any or all of the above ingredients. Usually eaten with the hands, this is like a Mexican sandwich.
Like tostadas, tacos are great for a make-your-own party!
Burritos
Once again, the same basic ingredients, but using a FLOUR tortilla, rather than the corn tortilla.
Start with a single tortilla, place on a plate and cover lightly with shredded cheddar cheese.
Cover with a microwave cover and cook for 15 seconds, or until cheese is just melted.
Immediately remove from microwave and spoon beans or meat down the center.
Top with lettuce, more cheese if desired, tomatoes, olives, sour cream and salsa.
Roll up (if you haven't filled it too full) or simply fold over.
A quick, easy meal. Great for using leftover meat, odd bits of cheese, etc.