Apple Pie
| | |
| --- | --- |
| Serves 6-8 servings, depending on size of portions (Jim-sized: 6; Verna-sized: 8) | |

The All-American favorite! A double crust, mouthwatering delight, fragrant with cinnamon. I use Granny Smith apples for the best flavor and texture. The apples will have a firm bite without being mushy. If you use a sweeter apple, reduce the sugar by about ¼. To see a picture, click here.
1

recipe

8

cups

sliced Granny Smith apples (about 8 large)

2

liters

¼

cup

flour

1

ounces

30

grams

1

cup

sugar (caster)

7

ounces

200

grams

2

tsp

cinnamon

10

ml

1

Tbs

butter

15

ml
Prepare a recipe of flaky pie crust, fitting one shell into a 9" pie tin. Trim the edges of the crust to just larger than the edge of the pie pan (about ¼" [.75 cm]). Reserve the other crust for the top.

Pare, core and slice thickly the apples (about 12 slices per apple for large apples). Mix the apples in a large bowl with the flour, sugar, and cinnamon. Fill the raw pie crust with the sliced apples, mounding in the center. Dot the apples with pieces of butter.

Roll out the second crust to a circle with a diameter about 3" [7.5 cm] larger than the pie.

Using cold water, wet the lip of the bottom crust where the two crusts will be joined. Carefully lift the pastry onto the filled pie. Press the edges lightly to the bottom crust. Trim the top crust to about 1" [2.5 cm]) beyond the edge of the pie pan.

Turn under the top crust, making sur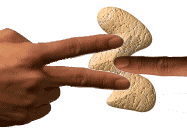 e to capture the bottom crust in the fold as this will seal the crusts together.

Crimp the edges with your fingers, as shown at right. Push with your fingers to create a zigzag formation of the crust.

Sprinkle top with cinnamon and sugar. With a sharp knife, cut 4 or 5 slits in the top of the crust to allow steam to escape during baking.

Make a narrow strip of foil (about 3" [8 cm] wide) and the length of the pie's circumference (fold several narrow strips together, end to end, to make the necessary length). Carefully cover the edges of the crust with the strip of foil, gently crimping the foil to hold it in place. This will prevent the edges from over baking.

Place in hot oven (450°F [235°C]) and bake for 10 minutes.
Reduce heat to 375°F [185°C] and bake another 30 minutes.
Remove the foil from around the crust and continue to bake for another 10-15 minutes. The crust should be evenly browned and the syrup form the apples may begin to bubble through the slits.

Cool thoroughly before cutting. This will allow the juices to firm.

Serve by cutting wedges and gently lifting out with a pie server or small spatula. If desired, heat in the microwave until warm (1 minute or less). Serve with a large scoop of vanilla ice cream.